Bring Your Experiential Vision to Fruition
---
Experiential marketing is aimed to not only create an experience for the visitor, but to also capture necessary data, and ultimately generate measurable ROI. Just how in the world can one accomplish all of this from a mere vision? Let's explore some tips on how to Bring Your Experiential Vision to Fruition.

Tip #1: Do your research.
Not all specialty mobile truck and trailer builders are created equal. In fact, there are many factors to consider when researching potential builders. Here are a few to consider:
How long have you been building specialty vehicles? This question is important to understand how the builder began fabricating custom trucks and trailers, similar to your project and will gauge their credibility within the market. For example, APEX began by selling step vans to FedEx contractors, and began modifying the step vans for agencies and brands wanting higher end mobile food trucks, experiential vehicles, and retail trucks/trailers.
What is your typical project process – from beginning to end? Some builders over-promise and under-deliver, and to top that – are late on delivery. It's important that your builder can clearly identify the entire build process – from design, engineering, exterior build-out, interior build-out, paint/graphics, training, and delivery. At APEX, our process is extremely structured and we operate on a very detailed production schedule. You will know when your project is slated to enter each phase of the project build process. In fact, 98% of our projects leave on or before the deadline. We make the process clear and eliminate any uncertainty. Check out our WHY APEX video to understand our process.
Who will my contact be throughout the build process? Who will my contact be throughout the design, engineering, and build process? Will I continue to correspond with a salesperson, or should I direct my questions to the project manager? This type of clarification is imperative to ensure your questions are answered in a timely manner, and from the correct authority.
Can I see my project in a 3D design? Many builders still have the 'back of the napkin' mentality, which has worked for them in the past until it doesn't. Understanding the engineering and design mechanisms that go into building a specialty truck is important. APEX offers an in-house design and engineering team that will listen to your needs, identify the scope of work, provide 3D renderings, and a fully equipment list. We understand that bringing your vision to life is such an important part of your business decision.
Do you offer a warranty? Most builders do offer a warranty, but to what extent? The industry standard is three years on craftsmanship. It's important to understand how the warranty work is completed – the process, where the warranty work must be completed, expected downtime while work is being completed, etc.
APEX is the industry leader for our warranty, as we offer an unmatched 5-year warranty on our craftsmanship.The key difference between ours and other builders... we don't require you to bring your truck or trailer back to our facility for repairs. We understand that being on the road and generating ROI is your main objective, so if you encounter any warranty issues, find a certified service station near you and get them done there. It's easy, convenient, and puts you at ease.
What is the typical build time? Get a complete timeline of the build process in writing. Be sure you understand the timeline demands – what do you need to provide in order to continue pushing the process along? Will you be given weekly updates on the build process? Based on conversations with several customers that have built with other builders, the biggest frustration of the food truck build is missing the deadlines. APEX understands that you are running a business, and your specialty truck or trailer is not generating ROI until it's complete. We are set-up in-house to manufacture our vehicles within 4-6 weeks, depending on the complexity of the build. You will know an exact timeline once the design is complete.
After the build is complete, how will I receive the truck? Builders operate the delivery process differently. APEX has a nationwide delivery option that many of our customers take advantage of. However, our central location in Kansas City, MO, allows many of our customers the ability to pick-up their experiential trucks/trailers and receive onsite training from our production crew.
Do you have any financing options? Without financing and security of funds, a specialty unit cannot be built. Some builders are beginning to offer in-house financing to ensure their customers can receive secured financing. APEX offers in-house financing, which allows our customers to be relieved of the financial uncertainties of finding a lender.
Can I get a list of references? This may be one of the most important questions you ask builders. This type of conversation with past customers will bring out unbiased information about the customer's experience – both the positive and negative. It's also important to be able to view a gallery or portfolio of their past project builds to ensure they have in-depth experience. Check out the APEX portfolio for a guide on what a solid portfolio should look like.
Tip #2: Bringing your vision to a 3D Fruition.
Some builders invest in the upfront design and engineering of your experiential truck or trailer, which should be a requirement from you. Extracting your vision from a 'back of the napkin' drawing, or a standard floorplan is completely different once it hits a 3D fully rendered environment. The ability to visually and mathematically understand the dimensions, equipment flow, and throughput can eliminate so many issues once the build process begins.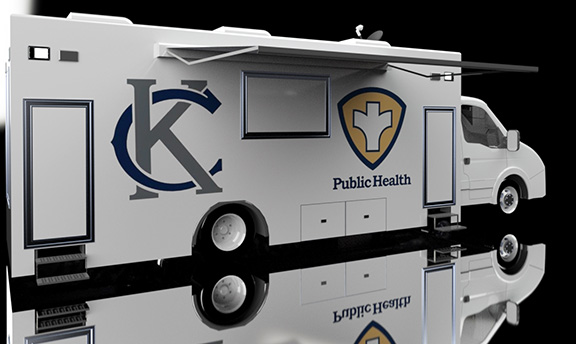 APEX focuses on the upfront design of each project, creating a fluid and executable build process. We are one of the only specialty builders that staffs five full-time design engineers. Our focus is on the upfront design and engineering of each project, eliminating any inconsistencies before the build process begins. Let's compare specialty vehicle builds to home building. As a home owner, you would never build a home with only a simple floor plan and a basic quote given to you by the builder.
Think of APEX as the architect for your mobile custom build, merging the design and engineering portions of the equation into a 3D environment to provide a quality design, scope of work, equipment list, and pricing proposal. We spend an extensive amount of time designing each project in 3D, which addresses many of the issues before the build begins, ensuring your unit is still on schedule for completion on your due date! When you build with APEX, there will be no unexpected delays… bottom line. Each project we build has 80+ hours of design and engineering, and 20+ hours of procurement and equipment management invested before even hitting the production floor!
Tip #3: Get Inspired.
What's a better way of gaining inspiration than to look at other projects? Gather of list of things you like from certain projects, and what you'd like to change. Bring this to your builder when you initially meet with them.
Ready to check out some projects – click here to see APEX's portfolio.